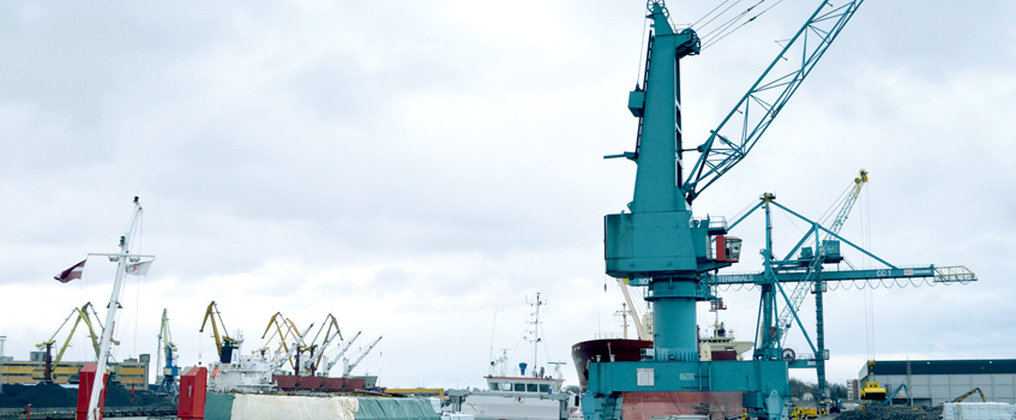 A NEW, MULTI-PURPOSE CARGO HANDLING CENTRE

The most modern terminal for handling of general cargoes, containers and Ro-Ro cargoes in the Baltic region.

SIA "Noord Natie Ventspils Terminals" is a dynamic company, which began its operation in 2000, when the 1st Phase of construction was completed. The idea of the terminal was determined by the conception of the Free Port authority to develop new projects and attract perspective cargo flows − containerisation services and intermodal solutions are the power of this century's logistics. The terminal comprises the best experience in port management, wide international contacts and high standard technologies.
Today SIA "Noord Natie Ventspils Terminals" strikes for one goal − to strengthen its positions in the global transport network and to become a strategic point within the container and Ro-Ro cargo logistics chain between Western Europe, Russia, CIS countries and Asia.
SIA "Noord Natie Ventspils Terminals" organises its operations with the aim to offer the clients multi-shaped, high standard services at friendly costs.

The company provides the following services:
Loading/unloading of vessels – terminal is especially well fit for Ro-Ro vessels and container vessels;
Open and enclosed storage of containers and general cargoes;
Cargo stuffing and stripping in/from containers;
100 reefer container plugs;
Cargo distribution services;
Intermodal solutions;
Cargo forwarding service.

Strategic location withinthe main road network
SIA "Noord Natie Ventspils Terminals" utilizes the advantage of the favourable geographical location of the Ventspils Free Port at the Eastern coast of the Baltic Sea, on the crossroads of eastern-western trade roads, which for centuries has determined its strategic role for the export of Russia. Railroads and highways successfully connect Ventspils with the main cargo consumption and distribution centres, as well as with main industrial regions in Russia and the CIS. At the moment, along with the EU enlargement, the port and its companies have the opportunity to strengthen their role in a new quality – the perspective economic space substantially activates business relations between Western Europe, Russia and CIS.
Technical equipment:
Rail-mounted crane with 35t lifting capacity and maximum outreach 45m;
Mobile crane Gottwald with 100t lifting capacity and maximum outreach 44m;
Container crane with 60t lifting capacity and maximum outreach 37m.
Two front loaders
Hydraulic manipulator «Sennebogen» 835M with max outreach 20,50 m equiped with bulk cargo scoop 1,80/2,70 m³ for weight up to 5,6 t 25 m³ grab

Terminal is equipped with modern mobile loading equipment: Forklifts with 1.75-25 t lifting capacity, reach stackers, terminal tractors, roll trailers, train tractors, etc



Noord Natie Ventspils terminals berths

N. 17 length 220 m, depth 8 m,with Ro-Ro ramp; No.16 – length 256 m, depth 14.2 m,with Ro-Ro ramp;
N. 16 length 139 m, depth 14.2 m;
N. 16A
N. 15 length 299 m, depth 14.2 m;
N. 14 length 280 m, depth 14.2 m.
SIA "Noord Natie Ventspils Terminals" advantage is its capable, modern infrastructure, which is constructed basing on new conceptions and the best standards for development of a rational and economic terminal. Railroads and access roads have a strategic location within transport system of Ventspils, and that insures terminal's function as a logistics element in the overall transport network of Latvia and neighbouring countries – Russia, Baltic and CIS states. At the moment the area of the terminal is 30 ha. In the nearest future it is planned to expand to 38 ha.

SIA "NOORD NATIE VENTSPILS TERMINALS"
Address: Plostu iela 7, Ventspils, Latvija, LV-3600
Phone: +371 636 07300
Fax: +371 636 07301
nnvt@nnvt.lv
www.nnvt.lv